Here we go again with more of our hero Tiger Mask! We're getting close to the end.
Tiger Mask vs. Gran Hamada -  (2/3/83): This featured great matwork, agility, timing, counters and reversals. Much of this was on the mat and that's where Tiger is best despite being known as a flying innovator. These two are just amazing together. A classic encounter.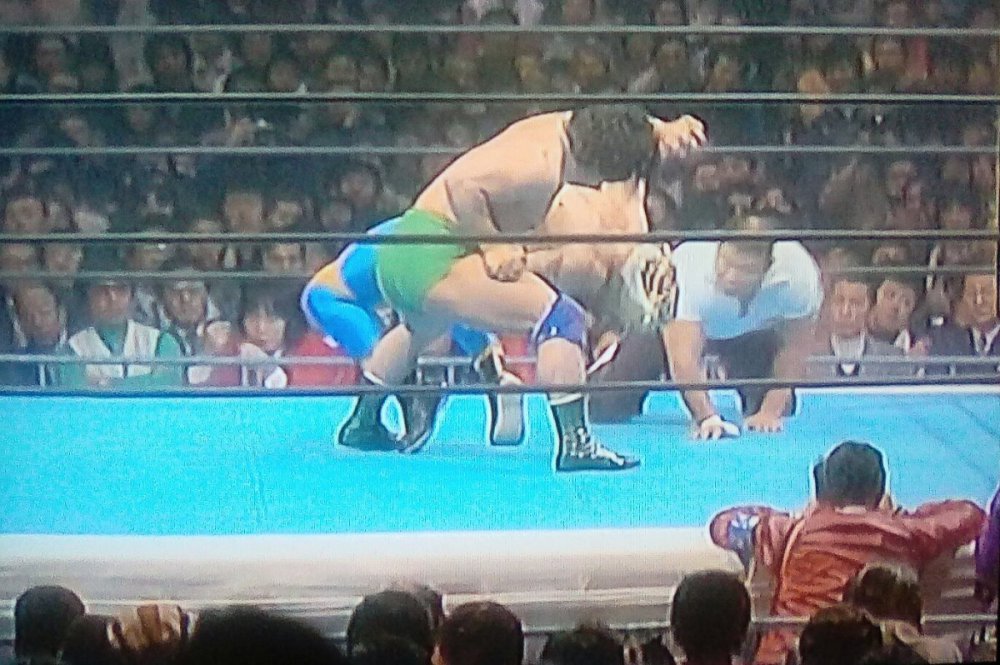 -----
Tiger Mask vs. Black Tiger -  (2/7/83): JIP 8 minutes in,  good match with state of the art offense. Black Tiger isn't Tiger's best opponent but he's always there to try and foil our hero's plans.
Tiger Mask vs. Kuniaki Kobayashi -  (2/8/83): 7 minute JIP, what was shown was awesome. Its a shame we didn't get to see their feeling out period and matwork. Spectacular stuff that was 10 years ahead of its time. Check out the Muta lock!! Yeah, Muta got nuthin' on this!

-----
Tiger Mask/Kantaro Hoshino vs. Gran Hamada/Kuniaki Kobayashi (2/10/83): Another JIP, 4 minutes in but I think we get enough to not have it be obvious. This is pretty exciting stuff with action from bell to bell. 
Tiger Mask vs. Dynamite Kid -  (4/21/83): The final encounter and the famous restart match. This may be the first "5 more minutes!" match. I think that's what made it a classic match. It was off the hook when both guys got disqualified. The fans were chanting for more time or a re-start...and they give it to 'em!! We haven't seen this level of intensity in awhile...I mean its over the Kuniaki matches when Dynamite Kid is bringing broken bottles in the ring to stab TM with! We haven't seen Dynamite in some time but they really dial it up for this ultimate fight. I have some problems with some move choices and their selling but I think all US fans that grew up with the Undertaker will feel this way. Classic match for everything that goes on here.
I've got one more disc of my TM DVD set so probably 2 more posts. I'm still enjoying the heck outta this set. We've got more Kobayashi  in singles and tags so, it should be good!
Thanks for reading!